US Open Golf 2017 Leaderboard: Live Updates and Storylines to Watch for Friday
Rickie Fowler rolled to a 65 in the opening round, but conditions could be more challenging in the second round.David J. Phillip/Associated Press
A brilliant start does not always translate into a stellar finish, but Rickie Fowler is in an excellent position to put his stamp on the 2017 U.S. Open at Erin Hills after firing an opening round score of seven-under par.
Fowler played bogey-free golf at the Erin, Wisconsin, course that features thick fescue in many of the rough areas, and he looked thoroughly comfortable in the environment.
However, Fowler had ideal conditions Thursday because he played much of his round in the morning when the winds were calm and there was still some moisture on the course.
Details for Saturday's round are below:
Date: Saturday, June 17
Start Time: 11:00 a.m. ET (play will begin at approximately 9:30 a.m. ET)
Location: Erin, WI
Course: Erin Hills
TV Info: FOX
Live Stream: Fox Sports Go, Fubo.TV
When he tees off Friday at 2:36 p.m. ET, the course will have been baked by the sun for the last two days and the winds could pick up. Under those circumstances, the course will be more difficult to play than it was during the first morning of the tournament.
Paul Casey played in the afternoon session Thursday, and he was able to cope with the somewhat more challenging conditions. He finished his round with a six-under 66 and is just one stroke behind Fowler, as is relative unknown Xander Schauffele.
Fowler's ability to reach seven-under and tie the opening round marks of Jack Nicklaus and Tom Weiskopf (set in the 1980 U.S. Open) is one of the storylines for the second day of the national championship.
Fowler was thrilled with his score in the opening round, but he is focused on the big picture.
"It's always cool to be a part of some sort of history in golf," Fowler said, per Gary D'Amato of the Milwaukee Journal Sentinel. "But I'd rather be remembered for something that's done on Sunday."
Casey was a bit overwhelmed by his own ability to score. He was hoping to put a decent number on the board, but he didn't think he would come close to Fowler's opening round.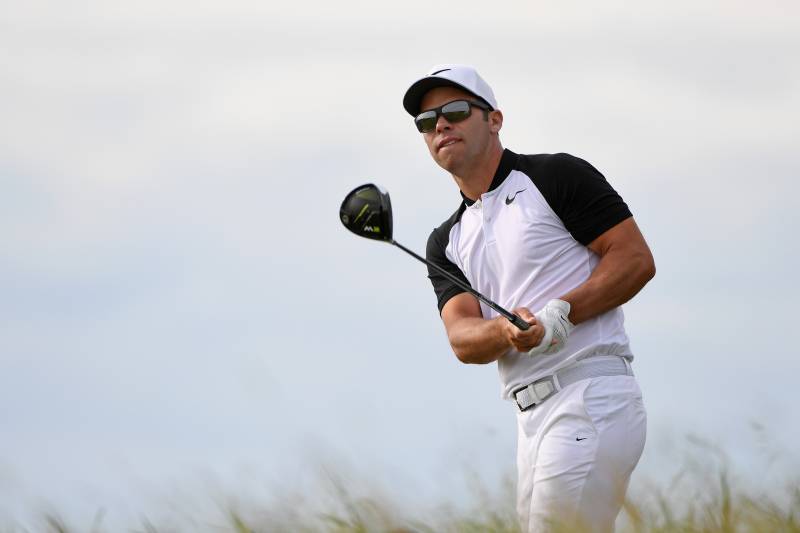 Paul CaseyRoss Kinnaird/Getty Images
"I would have snapped your arm off for six-under," Casey said, per D'Amato. "I'm a Rickie Fowler fan and the golf he proposed this morning was beautiful. I was hoping and praying I would be half as good as Rickie, so to be right behind him, I'm ecstatic."
While Fowler and Casey hope to stay at the level they established in the opening round, several of the pre-tournament favorites have to pick it up if they are going to make the cut and compete on the weekend.
Dustin Johnson may be the defending U.S. Open champion, but he did not look like he was going to make a serious run at Erin Hills during the first round.
Johnson shot three-over par and struggled badly on the back nine. Johnson had a double bogey on the par-five 14th hole, and he followed that with a bogey on the 15th. He rallied with a birdie on No. 16, but he couldn't sustain that and bogeyed the 17th.
Normally, Johnson will feast on the par-five holes because of his tremendous distance, and he will have to do a better job Friday.
Johnson was the +750 favorite coming into the U.S. Open, according to OddsShark, while Jason Day was fairly close behind at +1400. If Johnson's opening round was disappointing, Day's 79 was disastrous.
Day is in a brutal position, but he has hopes of a better second round.
"If I get through to the weekend, I can slowly inch my way back," Day said, per Mike McAllister of PGATour.com. "You don't really have to do too much on the weekend at the U.S. Open to move up a bunch and get yourself back into contention. So the second round is crucial for me to get back on my feet, and hopefully I can do that."
Day will almost certainly need to go low if he is going to make the cut.
Many of the pundits expected Rory McIlroy to have an excellent tournament and contend for the title at Erin Hills because he had seemingly recovered from a recurring rib injury that had kept him out of action for the previous five weeks. He was the second betting choice at +1200 as the tournament got underway.
After a sharp start that included an eagle on the second hole, McIlroy blew up with a score of 78.
"You cannot play this golf course if you're not in position off the tee," said McIlroy, per McAllister. "And I wasn't in position. Obviously I paid the price for it today."
One of the other key storylines involves veteran Ernie Els, who won the U.S. Open 20 years ago at Congressional. He has been struggling for much of the last calendar year, as he has missed the cut in 13 of his last 25 tournaments.
That does not appear to be an issue this time around, as Els fired a two-under 70 despite closing with back-to-back bogeys.
"You take a two-under par in the first round of the U.S. Open," Els said, per McAllister. "I know Rickie played a great round, seven-under. But through experience you know that the field's coming back to par. So we'll see where it goes."